Sooo, hey. I've solved the mysterious case of the painful Jesus shoes! I just needed to adjust them. Haha! Once I figured that out I wore them the rest of the week, :D
Guess what movie I just saw?!
Confessions Of A Shopaholic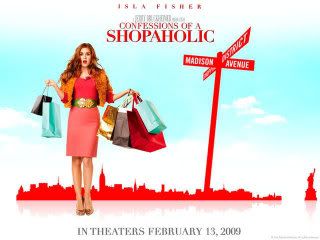 It was sooo good. I thought maybe it was going to be stupid or lame but it was actually seriously cute. Some of the outfits they put on "Rebecca Bloomwood" a.k.a. Isla Fisher, were pretty far fetched. I mean, come on!--furry boots, a satin dress, a vintage belt, a HUGE white bag, and a fur shrug... what the heck. Nooo. A hugeee NONO. But anyways, it was a good movie, and I can't wait until it goes on DVD, so I can watch the stylist commentaries and stuff! XD
Speaking of Great Fashion Movies,[this is cliche]
The Devil Wears Prada
is quite the stunner. And if you're like me the highlights of that movie were the clothes. I mean, did you see that Chanel pearl necklace, and the Gucci boots?!
Oh yeahhh, and
Marie Antoinette
with Kirsten Dunst. It's not modern fashion at all, but it was just beautiful to see all the outfits. I mean the silhouettes, colors, and fabrics were mesmerizing. AGH. I could go on for days. Trust me, I've seen that movie about 27 times. And since there is only like 15 lines in the entire movie, I probably know the script, ahaha. I love you Sofia Coppola.
Speaking of her, did you know that she had like a Marie Antoinette-inspired store in Japan! I saw these pictures of it, it was champagne pink with like cupcakes and sparkles. That's like all my favorite stuff in one place!
Oh, yeah and
Mahogany
with Diana Ross. Dang, I hope that happens to me. Somebody saw that she had talent, believed, and then invested in her. And DANGGG, she was fly.
:D